Learn Spanish, French, Greek and Hebrew by diving into a classic story with a silly twist. Meet new characters, make them move and explore a new language with a fun and familiar story.
Download our language apps for free!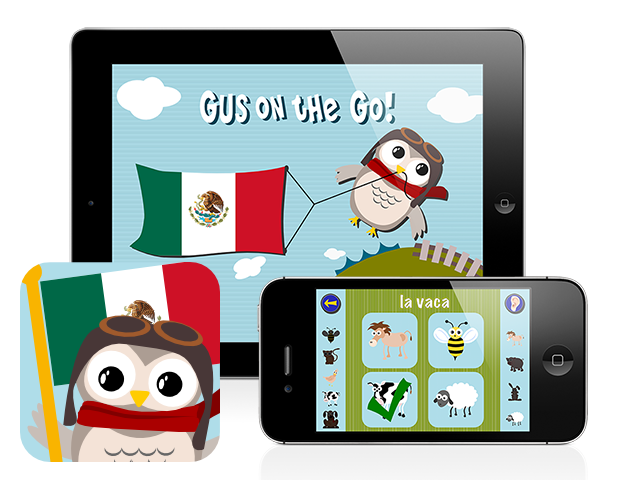 The original Gus on the Go app
Explore a new language with the original Gus on the Go language app! With 10 interactive lessons, engaging vocabulary reviews and delightful games, learning a new language has never been this fun! Available now in 30 different languages in the App Store, Google Play and Amazon.
Available in 30 Languages
North and South American Languages
African/Middle Eastern Languages
Vulnerable Languages
Gus on the Go now works with native speakers of vulnerable and endangered languages to help preserve language diversity. The following language apps are available for free.
What Moms about Gus

"Stories by Gus on the Go hits the right note for pacing, content, and interactivity for kids learning Spanish. It uses short, familiar stories to teach children beginning Spanish words and phrases."
-Melissa Taylor at ImaginationSoup.net

"Baby G absolutely loves this app and so do I. It's interactive, educational, intuitive AND addictive."
-Bee Yinn Low, Mom Blogger at RasaMalaysia.com
Signup to receive Updates, Free Educational Resources and Exclusive Deals