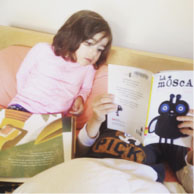 Do you remember when you made that decision to raise bilingual children? What led you there and how is it going? Everyone has their own story and for us who were raised in a Bilingual household it is more about language but also identity.
In college I committed myself to relearn the Spanish I lost growing up in New York City to a child of Cuban immigrants. I didn't fully lose it since my mother never learned English but it was not as fluent as I wanted it to be. Since then I envisioned raising children in a Spanish speaking home. Thankfully, my husband's second language is Spanish.  We started out great and then…
Here's a list of 5 MAJOR mistakes I made:
Número Uno:
I let them watch Netflix in English
It's harmless, right?  One episode here, one the following week. Not everything on Netflix is in more than one language. I can't always say no to the shows they want to watch (well I can) because it is not in Spanish. Right?
Wrong! I should have researched what was available on Netflix for Kids in Spanish. I only needed to google it! Like, right now:
List of Netflix US TV Shows with Spanish Audio and Subtitles
Número Dos:
I didn't have them call their abuela and abuelo on a more consistent basis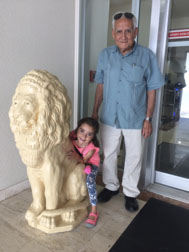 I live in California and my parents live in Florida; we only see each other once a year. If I would have realized that my kids would really benefit from living close to my parents I would have settled somewhere between Miami and Tampa. Not only would it help them by speaking more Spanish and spending valuable time with their elders but I would have FREE BABYSITTING!  What was I thinking?!
Número Tres:
I did not sign them up to an activity in a Spanish speaking environment
My kids went to an awesome Spanish-speaking Preschool Co-op. For two years, their Spanish was reinforced with their teachers and sometimes with their peers.
I began homeschooling and Spanish wasn't surrounding us like before. Omar's baseball was in English, Azalea's dance class was in English and the parks we went to we only heard English.  In retrospect I could have done that differently. Omar could have been in fútbol and Azalea in danza.
Número Cuatro:
I was worried more about their Cuban accent than what it would be for them if they did not speak Spanish
Ok, this was about me.  Yes, I carried my trauma into my parenting and I completely messed up. Omar had a Cuban accent and I did not want him to get teased.
Given my experience, and that I no longer have a Cuban accent, I should have waited it out. Or even better not cared!
Número Cinco:
I started speaking to them in English
I did what I said I would never do, I spoke English to them. It still feels weird, years of only speaking Spanish to my children and then switching. One day I noticed that when Omar spoke English it did not make sense.  It wasn't because of his Cuban accent, it was that he jumbled words together to make a sentence.  For example : "I bathroom tree hopped on a plate, go team!"  Did you understand that?  Me, neither.
We homeschool and again I was filled with anxiety.  How would he progress if it wasn't in English? Just like some people question my homeschooling, there are people who have questioned me raising bilingual children. I doubted when I should have not.
Solutions to my mistakes:
I've had the conversation with my kids about the importance of speaking both languages and how I made a very big mistake by speaking to them in English. I also told them, lo siento.  I am now speaking more Spanish to them and exposing them to Spanish-speaking environments outside the home.
Both my husband and I are book lovers and we have definitely passed that on to our kids. Last year, I started Booklandia, a subscription service of Bilingual and Spanish children's books. One of our goals is to make it easier for families raising Bilingual (Spanish-speaking) children to access authentic books from Latin America, Spain and the US.  My children are now exposed to a stronger vocabulary because of these books.
We've made more frequent trips to Florida; all new shows on Netflix must be in Spanish; there are plans in the works to visit Cuba and our family there; we read a ton; and I have forgiven myself for my mistakes. There is also room for start-overs.
Maceo Cabrera Estévez runs Booklandia Box, a carefully curated bilingual subscription box service for young readers. Maceo's love for books has always led her on the path of working on children's literacy through community organizations, workshop facilitation, and bookselling. You can also find her on Instagram and Facebook.