Gus on the Go: Hebrew for kids
Explore Hebrew for kids with Gus on the Go's original Hebrew vocabulary app and then dive right into stories in Hebrew with Stories by Gus on the Go. Our Hebrew apps for kids give you an immersive experience from the start.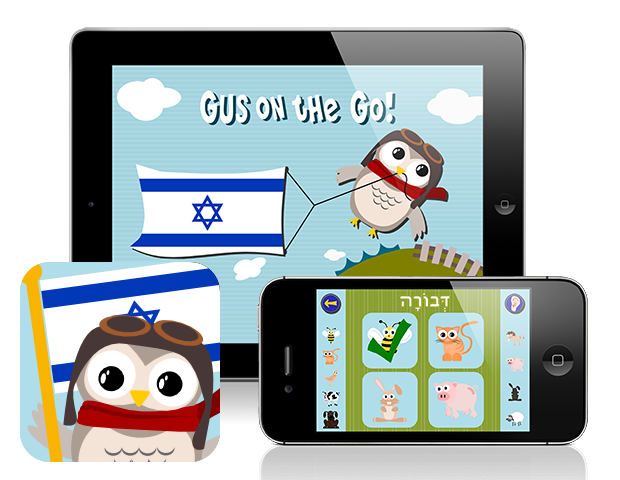 Shalom! Did you know that Hebrew is an ancient language that almost went extinct? It was unspoken and only written and read for almost 2,000 years until it was revived as a spoken language a little over a century ago!
Gus on the Go: Hebrew is a delightful introduction to basic Hebrew nouns for young children. Think of it a one of those technologically out-of-date children's picture books brought into the 21st century. Now not only do kids see a picture of an item with its name, but they have fun interacting with the scenes, hearing the words spoken by a native speaker, testing what they've learned in engaging review, and, best of all, reinforcing their new knowledge through exciting vocabulary games! Learn how to properly pronounce Hebrew words in the following categories: animals, food, transportation, clothes, numbers, colors, parts of the body and shapes.
Hebrew text also contains vowel points.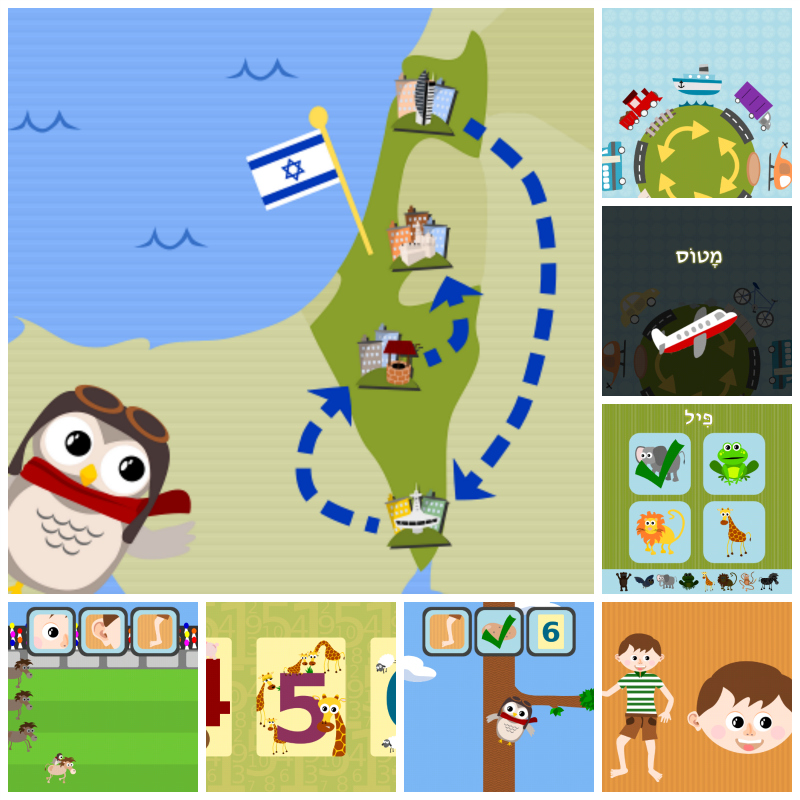 Learn Hebrew through Stories
Already past basic vocabulary? Then dive deeper into the Hebrew language with classic stories with a silly twist.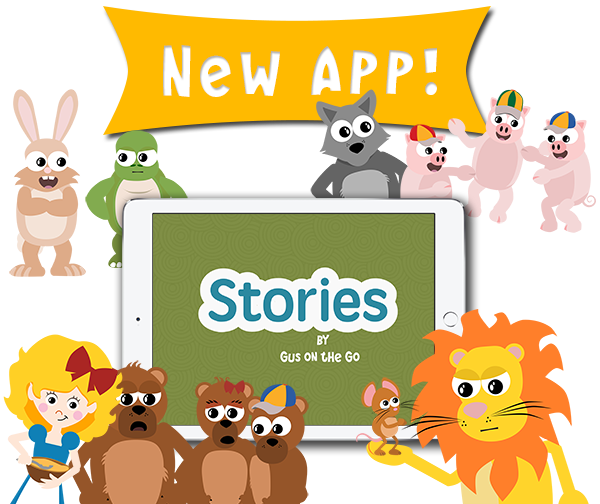 Meet the Lion & the Mouse. One likes to sleep, the other likes to dance. It's up to you to make them move, in Hebrew!
Meet the Turtle & the Rabbit. Make them walk and run, in Hebrew!
I never buy apps because I am always worried they are not going to be very good or educational. But this app is AMAZING! We are all in the process of moving to Israel and my kids are 8 & 5. All of us, including my husband uses this fun app. My kids are picking up so much and they don't even realize it! They have a blast trying to unlock the games and if they can't play the "game" part they go back and review themselves to get the right answer. They are also able to see the word written and working on reading it too! Great app. Thanks!
Krrique
"What a great discovery for introducing conversational Hebrew! My daughter can't put it down and is having fun advancing to each new section. The app provides positive reinforcement as the child progresses, bright and interesting images, and is user-friendly. I highly recommend it for families and Religious Schools!"
JessicaRY
"One of the best educational apps for any subject I have ever seen. My 13, 9 and 4 year old love it. Games are great, age appropriate, educational and tie very nicely to each lesson. They don't even realize how much they are learning. I am quite fluent in Hebrew and couldn't be more impressed"
hoboken doc
"This app is so cute and fun! It teaches Hebrew in a way that's engaging and fun for my 2 year old."
IUginger