Gus on the Go: Western Armenian for kids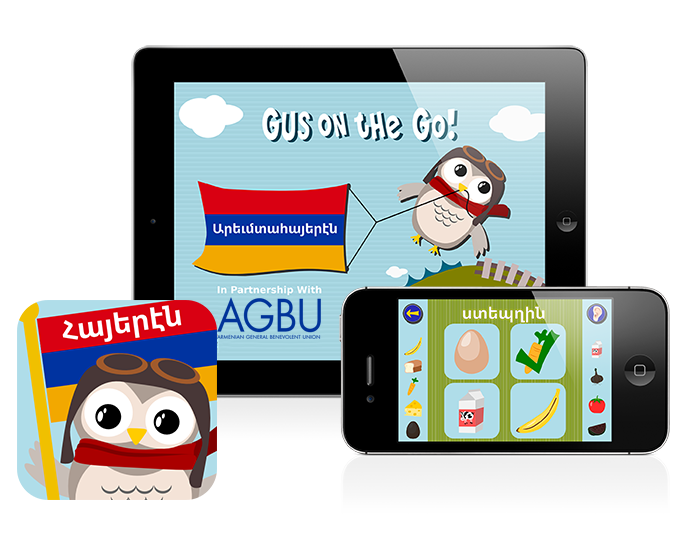 Բարեւ! Gus continues his adventures around the world with a trip to Armenia—making stops in Gyumri, Sardarabad, Yerevan, and Tatev! Travel with Gus as he learns Armenian vocabulary with our native speakers.
There are two standardized forms of modern Armenian—Eastern and Western—spoken by over 8 million people around the world. While Eastern Armenian is the official language of the Republic of Armenia and the Nagorno-Karabakh Republic, Western Armenian is spoken widely in the Armenian diaspora throughout North America, South America, Europe, Australia and most of the Middle East. Western Armenian uses the classical Armenian orthography, also known as Mashtotsian orthography, developed in the early 19th century.
Did you know that Armenians have had their own unique alphabet for over 1,600 years? This Indo-European language was developed in 405 AD by St. Mesrop Mashtots and contains 38 letters.
Follow Gus and learn how to properly pronounce words in Western Armenian in the following categories:
animals
food
transportation
clothes
numbers
colors
parts of the body
shapes
Developed in partnership with the Armenian General Benevolent Union (AGBU), Gus on the Go: Western Armenian offers nearly 90 vocabulary words through interactive lessons and fun vocabulary games. Play along and unlock colorful and fun animated vocabulary games to help review your language skills.
Established in 1906, AGBU is the world's largest non-profit Armenian organization. Headquartered in New York City, AGBU preserves and promotes the Armenian identity and heritage through educational, cultural and humanitarian programs, annually reaching some 400,000 Armenians around the world. For more information about AGBU and its worldwide programs, please visit www.agbu.org.
Developer's note: Gus on the Go: Western Armenian uses classical Armenian orthography.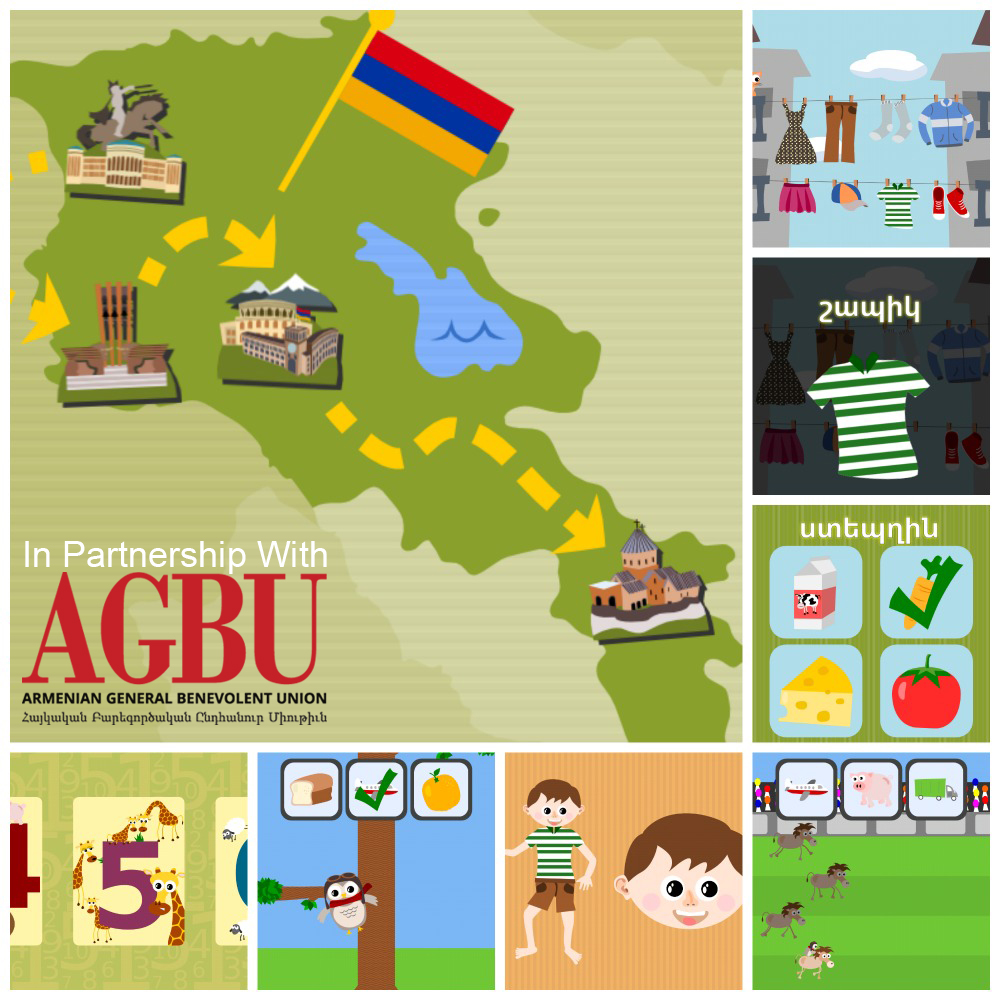 Gus on the Go Armenian is the best app we've found for learning Armenian. The app opens with a map of Armenia, including the flag and notable landmarks. The language enunciation is clear, the pictures are simple and the vocabulary is sufficient for everyday language. While my preschooler has been obsessed with the western version of the app, it can be used by kids of all ages. It's hard to find great educational apps that are Armenian, fun, and very good. This app manages to accomplish all of these, plus it incorporates learning in an effective way. The games, which you unlock as your learning progresses, are part of the practice and they are fun! The games challenge learners to practice the vocabulary and include review, as necessary. As an educator, I am quite impressed by this app and highly recommend it.
Armine Lulejian, EdD, parent
Although they are designed for preschoolers, the Gus on the Go Armenian language apps are perfect for learners of all ages, backgrounds and skill levels. Whether you are interested in teaching the younger generation, reinforcing your own knowledge of basic vocabulary or exploring a whole new language, Gus offers a fun learning experience for Armenians and non-Armenians alike.  As AGBU redefines its role in Armenian education with a new focus on offering an array of e-learning alternatives, we are happy to be taking this first step into the exciting world of apps with Gus on the Go.
Natalie Gabrelian, Director, Scholarships & Alternative Education, AGBU
Finally an Armenian app that is fun, educational and playful. I love seeing my daughter ask when we're going to play the "Armenian game". Thank you.
Busy mommy keep it simple