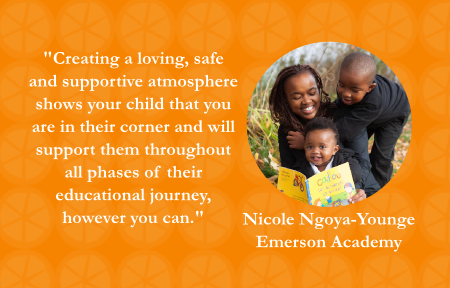 With University degrees in education and developmental child psychology, Nicole has also enjoyed a long career in academics. Born and raised in Montreal, Quebec, she is a native English speaker who nonetheless has studied and lived the benefits of bilingualism. In 2006, Nicole brought her commitment to excellence in education here to the GTA, and this year became the Head of School at Emerson Academy, Durham Region's only fully Bilingual Montessori and French Immersion Private Elementary School. We asked Nicole to share her best tips on supporting a child's bilingual education.
One of the biggest reasons parents hesitate before deciding to enroll their English-speaking children in a French Immersion school is that they themselves do not understand or speak French. It's a very common and understandable concern – so when parents ask me how they can be involved in their children's learning experience when they don't speak the language their child is working in, I share these top 3 tips on how to support their child's bilingualism:
1. Don't worry. Remember that French Immersion schools in Canada are designed for non-French speaking students…and their parents!
French Immersion teachers are bilingual, and ensure that written and oral communication with parents is done in English. Your child will have plenty of time to practice his or her new language in school with bilingual teachers, and any homework sent home will be based on lessons he or she is already familiar with, so that it can be done independently. Homework instructions are initially written in both English and French, so that parents can understand the assignment and can discuss it with the child if they wish, or simply observe as their daughter/son demonstrates their new-found learning.
2.  Do NOT stop speaking your native language(s) at home.
Some of the fear and trepidation that parents experience when considering French Immersion comes from a misguided perception that they are expected to reinforce their child's second language by communicating in French at home as well. While speaking, reading and writing in French with your child is desirable and can help your child to practice his or her new language skills in a different environment, it is not strictly required in order to sustain their new language . What's more important is that you do what is comfortable for your family. Feeling like you have to struggle to communicate with your own child because you are doing it in a language that you aren't fluent in can cause friction and create unnecessarily stressful situations for parent(s) and for child(ren). Furthermore, your child still needs time and space in the day to practice his or her native tongue, so as not to lose those language skills. Remember, the goal is to raise bilingual children, not just a French-speaking child!
3. Create (and enjoy!) opportunities for your child to maintain (and showcase) their new skills.
Talk to your child's teacher about the stages of learning a new language, what your child has mastered recently, and what you can expect to see or hear from your child at home…then celebrate each milestone with a happy dance or high five! There are also many activities that you can do as a family that will allow you enjoy quality time together while strengthening your son or daughter's language acquisition. Parents don't need to speak or understand French themselves to be able to listen to their children sing French songs, watch age-appropriate movies or favourite TV shows in French, play French computer games/apps, host a playdate with other French-speaking children and their non-French parents, or read a bedtime story to you in French. In time, you can even take a trip to a French restaurant and let your child order for everyone. Opportunities like these not only reinforce their learning, they bolster your child's self-esteem as well (think about it; how often do they get to know something YOU don't?).
Also, remember to commend your daughter or son on their efforts and not just their accomplishments. When they experience difficulty with their lessons, you can help by encouraging and recognizing the importance of practice and perseverance, setting goals, being honest and seeking help when needed. Creating a loving, safe and supportive atmosphere shows your child that you are in their corner and will support them throughout all phases of their educational journey, however you can.
Nicole Ngoya-Younge
Head of School, Emerson Academy
Durham Region's only Fully Bilingual Montessori and French Immersion Private Elementary School – Committed to Excellence in Academics, Ethics and Athletics