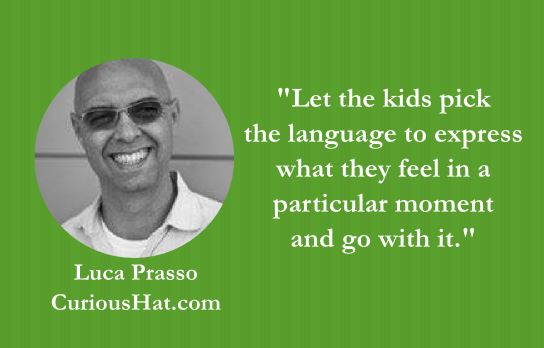 Luca Prasso is the Co-Founder and CEO of Curious Hat. Luca and his team produce creative mobile apps that activate your child's curiosity and imagination. We're big fans of his apps and mission to use the ipad to create moments and experiences, so we invited him to answer a few quick questions about his experience raising his children to speak both Italian and English.
Why is it so important for your kids to be bilingual?
I think this is one of the biggest gifts I could have given to my kids, along with the opportunity to travel, getting exposed to multiple cultures and people. I hope this will inspire their curiosity.
What has been your biggest struggle?
Keeping up with their growing vocabularies (English and Italian) as mine are shrinking (as I'm getting older!)
What has been the most surprising part of the process?
The daily discoveries of how flexible they both are (Noah is 5, Emily is 3) switching between 2 languages, often in the middle of a sentence. Noah is now an indispensable bi-directional translator during our daily chores!
What is your best tip to fellow parents hoping to raising bilingual children?
Be yourself. My wife Nadia and I switch between languages often but we don't plan it in advance. Let the kids pick the language to express what they feel in a particular moment and go with it.
Our favorite Curious Hat mobile apps
InfiniScroll
We love InfiniScroll for the open ended story telling capability. Kids can record and invent their own story in any language! This is a great way for them to create stories in another language and playback the video they've created.

EyePaint
EyePaint is an incredible combination of technology and exploration. Kids are encouraged to get up and paint with the colors in their environment. Another great way to discuss colors and every day objects in another language.