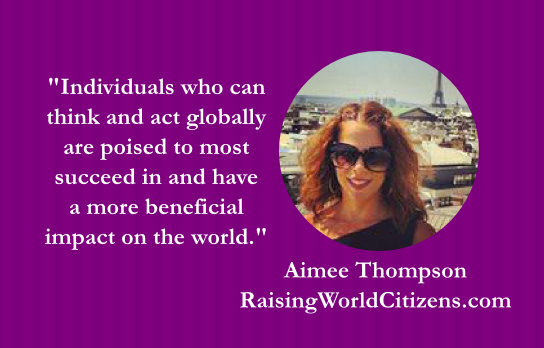 1. Why do you feel it is so important for you to raise and inspire future global citizens?
As a parent, I believe it's my duty to empower my sons to be global citizens. To me, that means providing them with an understanding and appreciation of people, cultures and places across the world, and also providing them with the ability to connect and converse with them.
Today, children have the opportunity to truly impact the world. They can travel practically anywhere. They can communicate with people everywhere. They can live, work and study in cities across the globe.
Individuals who can think and act globally are poised to most succeed in, and have a more beneficial impact on, the world. I can only hope that my sons will be able to do that and more as they learn, play and grow in our globally connected world.

2. You focus on multicultural experiences in your city – what events/activities have you and your kids enjoyed the most?
My family is fortunate to live in the diverse, world-class city of Chicago. We study, live and play with people from all over the world. My sons love to shop, eat and explore Chicago's multicultural neighborhoods, learning something new about language, foods and traditions along the way. We also attend multicultural family events in Chicago that allow us to open our sons' eyes, hearts and minds to other cultures – without leaving town.
Within just the last few months, we've been able to learn about Japanese archery at Japan Fest, watch the European Song Contest at a German cultural center, learn how to write the Chinese character for "spring" at Neighborhoods of the World, see an Australian puppet show during the Chicago Humanities Festival, and play French petanque at Bastille Day Chicago – to name just a few.
Travel also provides us with new and different multicultural experiences. My sons are budding travel enthusiasts. At a young age, they've traveled to Paris, London and Tokyo. Our travels have ignited a passion for exploration within them. They're already busy planning our next family travel destination.

3. What has been your biggest struggle with expanding their global horizons?
As many families can understand, time is the one thing that can prevent you from doing everything you set your sights on. Between school, activities, sports and work, it's hard to be everywhere and do everything. That's why our family has made cultural exploration a priority for us.
Another challenge for us is access to all cultures of the world. While I want to introduce my sons to all of the people and cultures of the world, there are only so many resources available to us in Chicago, at cultural institutions, online or at the library. We need to try to find new and different ways to introduce our sons to the world, and that's something we hope to do through travel, cultural exchanges, and other opportunities.
Foreign language had been a challenge for us as well. My husband and I only speak English, but we want our sons to be bilingual – if not multilingual. A few years ago, we decided to enroll our sons in a French international school when they were in first grade and junior kindergarten. We were initially nervous that it would be hard for them to learn a new language at ages 7 and 4, but they've flourished and are now well on the way to being bilingual.

4. How have your kids benefitted from your efforts?
By exposing our children to the world through our travels in Chicago and abroad, they've come to realize that the world is so much bigger than them. They are open to trying new ethnic foods. They have set their sights on studying aboard. They appreciate the cultural traditions, dress and customs of others. They love learning about and playing international sports. And, they're friends with children from many different backgrounds.
Most importantly, they appreciate people for their differences, but know that we're really all the same. For me, I believe that it's helped them embrace their own culture and their own differences, helping them grow into more confident and compassionate young boys.
Being able to speak and understand French has been a wonderful experience for our sons as well. It's been remarkable to see how quickly they've picked up French as a second language. They are now interested in, and open to, learning other languages, and they view language as one more way to connect with others.

5. What is your best tip in finding multicultural events and activities in any city?
Of course, I have to say that one of the best ways to find multicultural events and activities in cities around the globe is to follow local bloggers. I routinely search for other bloggers who share their insights on their favorite places to visit with their families in their hometowns or other cities around the world. If you follow enough bloggers from different backgrounds with different perspectives, they'll provide you with a diverse array of local events and activities.
I've also found that social media networks like Twitter can be great resources for tips on family-friendly events and activities. Before heading to New York City this summer, I searched for #family #travel #events #NYC on Twitter and found a ton of great things for my family to do there.
I also am constantly on the hunt for local parenting and/or events websites in my hometown or travel destinations. Most sites include events calendars that are chock-full of great events and activities for you to enjoy with your family, and they often include helpful travel tips as well.

Aimee Thompson is a Chicago mom raising two world citizens. She is a blogger, freelance writer and communications consultant. Through her blog, Raising World Citizens (www.RaisingWorldCitizens.com), Aimee chronicles her efforts to open her sons' eyes, hearts and minds to the people, places and cultures of the world. She also provides local insight on multicultural family-friendly events to enjoy in Chicago, and offers helpful travel tips for other cities she's been fortunate to visit with her family.
You also can follow Aimee and her family's multicultural adventures via Twitter (@aimeethompchi), Facebook and Instagram.