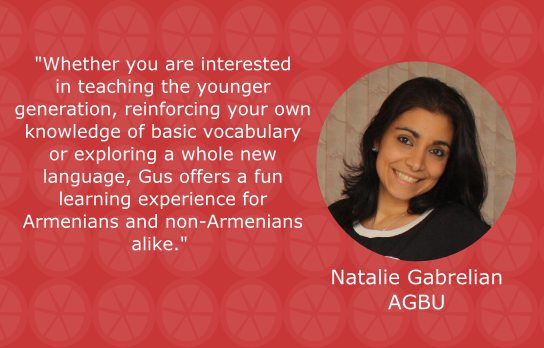 Early last summer the Armenian General Benevolent Union (AGBU) reached out to us to work with them to develop Gus on the Go in Eastern Armenian and Western Armenian. We're so excited to finally be able to release this for the international Armenian community. It's been a very personal project for all parties involved and we couldn't be more thrilled.
We spent the last half year working closely with Natalie and Lusiné from AGBU who are also the native Armenian speakers (Western and Eastern, respectively) featured in our apps. "Although they are designed for preschoolers, the Gus on the Go Armenian language apps are perfect for learners of all ages, backgrounds and skill levels. Whether you are interested in teaching the younger generation, reinforcing your own knowledge of basic vocabulary or exploring a whole new language, Gus offers a fun learning experience for Armenians and non-Armenians alike. As AGBU redefines its role in Armenian education with a new focus on offering an array of e-learning alternatives, we are happy to be taking this first step into the exciting world of apps with Gus on the Go." – Natalie Gabrelian, Director, Scholarships & Alternative Education, AGBU
One aspect we are especially proud of is the Armenian Country map featured in the apps. While most of the time, our country maps tend to get overlooked, we still worked hard to select cities and icons to represent Armenia. Featured are Gyumri and its city hall and the Vartan Mamikonian Equestrian Statue, Sardarapat Memorial, Yerevan's government ministries building, opera theater and the iconic Mt. Ararat, and lastly the beautiful Tatev Monastery.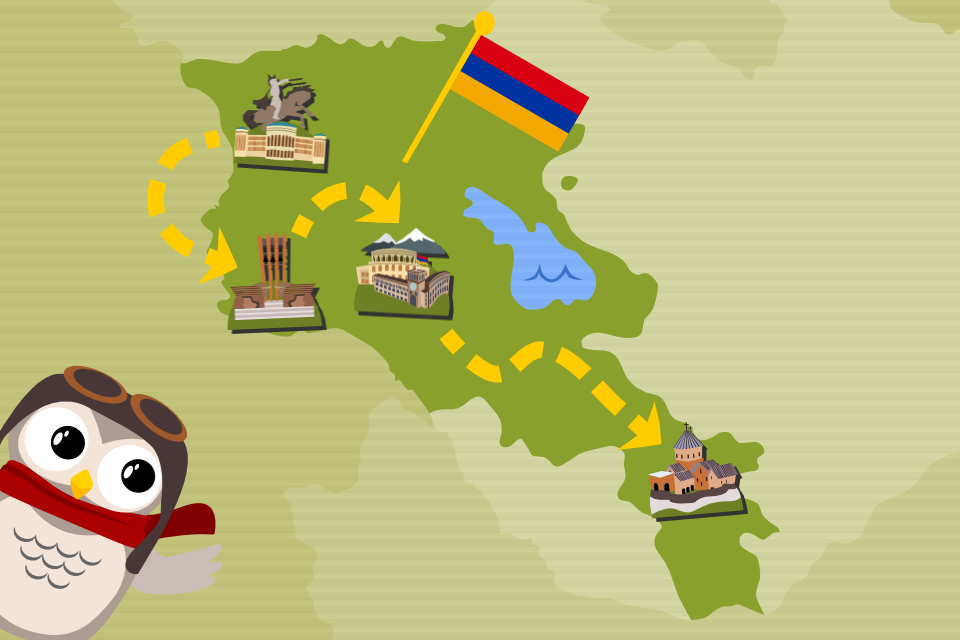 Both languages are now available (Eastern Armenian and Western Armenian) to download on both iOS and Android!
Established in 1906, AGBU is the world's largest non-profit Armenian organization. Headquartered in New York City, AGBU preserves and promotes the Armenian identity and heritage through educational, cultural and humanitarian programs, annually reaching some 400,000 Armenians around the world. For more information about AGBU and its worldwide programs, please visit www.agbu.org.